The Genealogy Spot Home
DNA Genealogy - Wow!
Jump Start Your Genealogy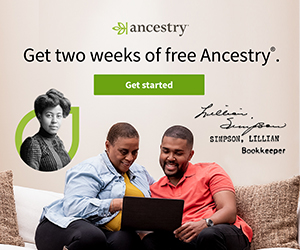 Genealogy Treasures
Death Finds a Way: A Janie Riley Mystery by Lorine McGinnis Schulze

Janie Riley is an avid genealogist with a habit of stumbling on to dead bodies. She and her husband head to Salt Lake City Utah to research Janie's elusive 4th great-grandmother. But her search into the past leads her to a dark secret. Can she solve the mysteries of the past and the present before disaster strikes? Available now on Amazon.com and Amazon.ca


* JOIN the FREE Olive Tree Genealogy Newsletter. Be the first to know of genealogy events and freebies. Find out when new genealogy databases are put online. Get tips for finding your elusive brick-wall ancestor.
Family Bibles
Family Bibles Have Great Free Genealogy Info...

Census Records
Find Your Ancestors In The Census...
Vital Records
Find Genealogy of Your Ancestors in Birth, Marriage, Or Death Records...
Land Records
Find Genealogy of Your Ancestors in Land Records...
Family Bible of Howell Family
This is an old vintage antique 1850 large howell genealogy holy bible with etchings engravings illustrations illustrated. found in NE Ohio
In the family record section of this bible under marriages it reads in cursive hand writing JACOB HOWELL MARRIED TO MARY ANN ACKLEN MAY THE 2 ND 1828
ISAAC BAUSERMAN MARRIED TO CATHARINE JANE HOWEL JUNE THE 20 1847


OLIVER ALERTON MARRIED TO SARAH ANN HOWEL AUG 20 TH 1848
ALBERT HATCHER MARRIED TO EMELINE HOWEL SEPTEMBER 18 TH 1859


JOHN HOWELL MARRIED TO SALINDA SHAFER OCTOBER 16 TH 1859
HENRY SWITZER MARRIED TO CORDELIA HOWELL APRIL 17 TH 1871
HENRY SWITZER MARRIED TO INEZ HOWELL SEPT THE 10 TH 1876.
at the bottom of this page it reads EXECUTED BY L HUMPHREY JR
on the next page under family record births it reads in cursive handwriting
SARAH ANN HOWELL BORN NOV 2 ND THE 1 ST 1828
2ND CATHARINE JANE HOWELL BORN DECEMBER THE 29 TH 1830
3RD JOHN HOWELL BORN AUGUST THE 8 TH 1832
4TH EMELINE HOWELL BORN OCTOBER THE 13 TH 1834
5TH CHRISTENA K HOWELL BORN MARCH THE 2 ND 1837
6TH PERMELIA HOWELL BORN MAY THE 20 TH 1839
7TH MARY ALMIRA HOWELL BORN OCTOBER THE 12 TH 1841
8TH WILLIAM WESLEY HOWELL BORN NOVEMBER THE 5 TH 1843
9TH CORDELIA HOWELL BORN FEBRUARY THE 27 TH 1846
10TH AMANDA THERESA HOWELL BORN OCTOBER THE 8 TH 1847
11TH INEZ PALOAN HOWELL BORN JANUARY THE 4 TH 1850
12TH CLARRABELL HOWELL BORN NOVEMBER 18 TH 1852
13TH LENARD ABLE HOWELL BORN JUNE THE 17 TH 1856.
at the bottom of this page it reads in cursive handwriting EXECUTED BY L HUMPHREY JR 1860. on the next page of family records under births it reads
MARY CATHARINE HOWELL BORN AUG 14 TH 1887 DIED JUNE 4 TH 1889
KARL MELLINGER HOWELL BORN OCT 20 1890
WILLIAM DANIEL HOWELL BORN JULY 31 1892
MARTHA HOWELL BORN SEPT 18 TH 1897
RUTH HOWELL BORN AUG 18 TH 1899
KATHARINE HOWELL BORN DEC 6 TH 1902.
on the families record deaths page in cursive handwriting it reads
1ST PERMELIA HOWELL DIED NOVEMBER THE 9 TH 1849 AGED 10 YEARS 6 MONTHS 20 DAYS
2ND WILLIAM WESLEY HOWELL DIED NOVEMBER THE 9 TH 1850 AGED 7 YEARS AND 4 DAYS
EMELINA HATCHER DIED AUGUST 13 TH 1861 AGED 26 YEARS 9 MONTHS AND 29 DAYS
MARY ALMIRA HOWELL DIED DECEMBER THE 7 TH 1864 AGED 23 YEARS 1 MONTH AND 25 DAYS
AMANDA HOWELL DIED SEPTEMBER THE 20 TH 1865 AGED 17 YEARS 11 MONTHS AND 12 DAYS
CORDELIA SWITZER DIED OCTOBER THE 23 1874 AGED 28 YEARS 8 MONTHS 2 DAYS SARAH A ALBERTON DIED JUNE THE 20 TH 1877
JANE WOLF DIED JULY THE 11 TH 1880
CLARA BELL HOWELL DIED MAY THE 13 TH 1883
CHRISTINA HOWELL DIED FEB 6 TH 1912
RUTH HOWELL HUM DIED OCT 23 RD 1939
LAURA MELLINGER HOWELL BORN FEB 5 1868 DIED MAR 23 1951
LEONARD A HOWELL DIED JULY 20 1931
Brian's Research
(hard one to find!) Not sure if this is the right family..

HOWELL JOHN 28 M W OH OH LICKING MCKEAN TWP 1860
John 28 b OH, carpenter
Sarah, 26 wife b OH
Emeline dau 2 b OH

HOWELL JACOB 55 M W NJ OH STARK NEW BALTIMORE 1860
Jacob, 55, mason b NJ
Mary A., 49 b PA
Christina, 23 seamstress b OH
M. A., 18, fem housemaid b OH
Cordelia, 14 b OH
Amanda, 12 b OH
I.I., 10, fem b OH
Clara B, 8 b OH
L.A., 4, male b OH
next door..
Jane Bauerman/Bauserman, 29 seamstress b PA
Orlander?, 11 male, b OH
Isadora I, 10 b OH

HOWELL JACOB 64 M W PA OH PORTAGE RANDOLPH TWP 1870
Jacob, 64, b PA, farmer
Mary, 58 b PA
Christina, 29 seamstress b OH
Cordelia,22 b OH
Inez, 18 b OH
Clara,16, teaching school b OH
Leonard 14 b OH

HOWELL CHRISTINE 61 F W OH OH PORTAGE RANDOLPH TWP 1900
Christina Howell, 61 b March 1839, single, b OH, father b NJ, mother b PA, farmer
near Roy Bauserman, boarder, 12 years old, in home of Marian A [Millen?], b May 1845, b OH, both parents b PA, wife of [Danny?]

HOWELL SALINDA A 60 F W OH OH PORTAGE FRANKLIN TWP 1900
Salinda A Howell, head, b May 1840, wid. 2 children, 1 living - md 42 years (crossed out). b OH, father and mother b PA
Emma Driabauch [hard to read], dau b Aprl 1863, wid, md 14 years (crossed out) 3 children, 3 alive, b OH
John A, grandson, 13
Harrison M grandson 8
Fern E granddau, 7

Search Ancestry or Check the Quick Start USA- Census Comparison Charts or Quick Start Canada- Census Comparison Charts for those in a hurry to find an ancestor
Share Your Family Genealogy Records
To submit a transcription or a photo of a genealogy document such as a coffin plate, funeral card or family bible please email ancestorsatrestATgmail.com (Replace AT with @ in the email address)